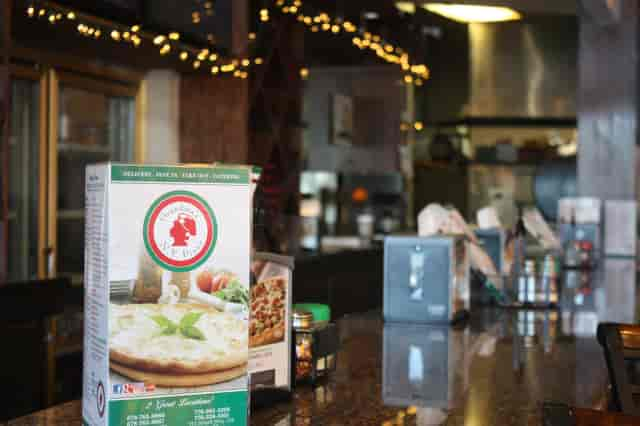 Cumming Menu
We Now Offer Delivery!
Can't make it to the restaurant? We got you covered! We now offer delivery up to a 5-mile radius from each one of our locations.
Become a VIP
Receive updates on special events, new menu items, menu reviews, and more!
Pizza Menu
Salads
Dressing: Caesar Ranch, Thousand Island, Bleu Cheese Creamy Italian & House Vinaigrette

Extra Dressing Add $0.75
Pizza
½ Topping $1.79, 1 Topping $2.99, 2 Toppings $4.99, 3 Toppings $6.79

Toppings: Pepperoni, Sausage, Meatball, Ham, Ground Beef, Chicken, Bacon, Onions, Mushrooms, Anchovies, Black/Green Olives, Tomatoes, Green Peppers, Banana Peppers, Jalapenos, Pineapple, Fresh Garlic, Eggplant, Extra Cheese, Broccoli, Spinach, Artichoke

GLUTEN FREE PIZZA & CAULIFLOWER CRUST PIZZA AVAILABLE!
Calzones & Specialty Rolls
Additional Fillings $0.99 each
Extra Marinara add $0.75
Beverages
San Pellegrino: $2.99
Soda: Small $1.49 Large $2.29
20 Oz. Bottled Soda: $2.25
2 Liter Bottled Soda: $3.49
Pitcher Soda: $5.99
Alcoholic Beverages
Please ask your server for pricing
Beers:
Domestic, Imported, Draft & Pitchers
Wine
Selection of Red or White